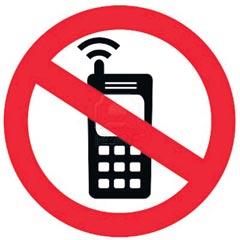 Do you want to switch off others mobile phone by SMS (Short Message Service)???
1) Take a multimedia phone,It is must because these types of phones will never off with this SMS
2) Then Go to Menu>>> Message >>> Write new message
3) Type 51 commas (for some of the phones or phone OS versions you need to use79 commas instead of 51) [ ' ] like below(These are inverted commas)

In this trick, After sending this SMS, your friend will get your message usually..
He will Open your message. After the clicking message open button, your friend's phone must be switch off or restart. Some case , he can see main page of your message, but while he try to press any other button like 'down arrow' for further reading or to get sender details , he cant do that work. because his mobile phone must be switch off or restart.
You must care to sending SMS like this. because this type of activities is like to abusing him. That is illegal.
So take care.
.